Loneliness is one of the largest health concerns we currently face. According to psychologist Julianne Holt-Lunstad loneliness is worse for you than obesity and as bad as smoking 15 cigarettes a day. The number of over-50s experiencing loneliness is set to reach 2 million by 2025, a 49% increase from 2017 and in Great Britain today there are over 2.2million people aged 75 and over living alone.
But new technology is giving hope to families everywhere.
What Does Independence Look Like?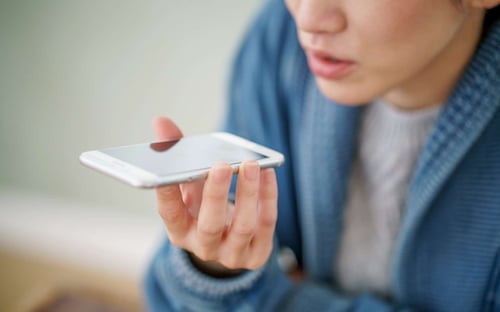 Remaining at home is at the heart of many people's view of independence. Only a small minority of seniors are happy at the prospect of moving into a care home or nursing home, not just because a significant change like this can be quite distressing, but also because they are reluctant to leave their treasured possessions and memories behind.
Sadly, a persons desire to be independent isn't always reflected in their abilities – in fact, The National Institute for Health and Care Excellence (NICE) outlined two key areas we can help improve an elderly individuals quality of life:
Decision Making
At the heart of independence is the ability to make decisions for yourself. Older people are accustomed to deciding their own actions, and removing this sense of self-determination can lead to feelings of denial and depression.
Empowerment
To facilitate the decision-making process, you will need to take steps to empower your loved one. Technology
These are two of the governing principles of voice technology and many skills have been built specifically with these two components in mind.
Intuition First
With an ever-increasing elderly population in the UK, AI and voice tech could provide solutions to help ease those feelings of loneliness and also increase independent living time for those with waning health.
The beauty of voice-first technology for an older audience is that no re-education is needed. The natural method of access through voice means that it can easily weave into day-to-day life and the conversational element can help alleviate feelings of isolation much in the same way as radio or a pet could except there is that bit more of 2-way engagement.
Skills such as My Carer launched earlier this year by the Alzheimer's Society have already taken those initial steps in supporting independent living by helping those living with early stage dementia. My Carer helps people follow their daily routine from medication reminders to step-by-step guidance through everyday tasks. These initial home-assistant skills are just the tip of the iceberg and once combined with AI a person could have full control of their home through voice and in an interconnected home from fridges reordering groceries automatically to monitoring and reporting on a person's health to next of kin.
With the percentage of the UK population aged 65 and over to increase by 10% over the next 20 years and the cost to the NHS of an over 65 year old patient being 2.5 times more than that of a 30 year old patient, technology could be the crucial key to help improve the independence and quality of life for millions of people and help alleviate stresses on public services. Smart speaker and human voiced content can play a significant role in addressing some of these challenges.
Increasing safety for those living alone
Technology can help in making life safer for the elderly in their homes. Using voice interfaces makes it even more accessible. A voice assistant can let the older adult's family know when they are OK or when they are not. This is what the Alexa skill Ask My Buddy does, by offering a check-in feature to signal that all is well. AI-powered devices can also provide proactive reminders to take pills, like LifePod. Technology can also predict and prevent accidents by studying behavioral patterns. Totemic Labs is focusing on doing this.
The elderly companion voice experience Marvee, offers a wellness check function called Morning Beacon. Marvee goes beyond physical well-being. It has a function to request a social visit and a means to access family news, like new arrivals, upon request.
FrontPorch, a not-for-profit provider of retirement living communities in California, has partnered with Marvee in running a 6 months pilot of voice technologies for older adults. The results showed that the participants felt the device made their life easier. They felt also more socially connected to family and friends.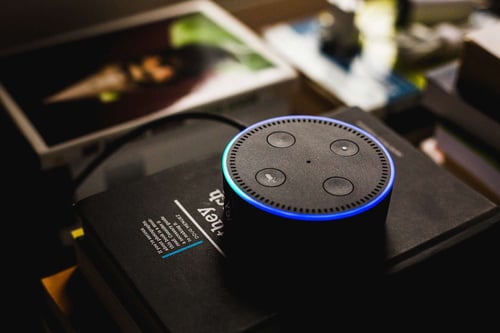 The Sound of Silence
You tend not to notice the absence of sound until it's gone and for some elderly individuals silence is the rule, not the exception.
And it's not long before this silence turns into isolation.
While in-person visits remain the best form of interaction, they are not always possible. Voice technology can help in two ways.
First, a computer to talk to can be a powerful ally in fighting loneliness. While still far from the marvellous level of richness of human-to-human conversation, with Alexa (and her skills) you can have a conversation nonetheless.
Secondly, and more crucially, a voice assistant can connect households, distant or otherwise with the click of a button. Alexa has communication features that can be used to video call or message other Alexa-enabled devices or supported mobile devices.
There's Plenty Left To Be Done
It's now over to us to enable the continued support of the older generations through this technology.
We've been working with brands who are developing actions and skills that are experience first and inclusive of a wide range of different demographics.